Learn how you can create, edit and utilize Client profiles in Forecast
Time to read: 5 minutes
Main Takeaways:
Please note: If you would like to learn more about the permissions a guest user has in your Forecast account please visit our article here.
Clients in your Forecast account
In Forecast you are able to create client profiles for your clients. These profiles are used for a variety of functions. Namely:
- Clients are used in connection with reports, rate cards, and budgets to give you the best possible means of managing your projects. Specifically, having a client assigned to a project means that you will be able to see to which client the project belongs to in all of your reports and you are able to adjust which rate cards you wish to use for that client in regards to a project.
- You are able to invite client guest users to view a limited amount of information in the projects that you are currently working on. This allows for client-related information and insights.
Note: Please be advised that inviting a guest user to Forecast does NOT invite them into Forecast as a full time member.
- You are able to sync your Forecast clients with clients from the Accounting and Billing integrations that Forecast supports. Xero, Quickbooks and e-conomic.
Creating Client profiles
In order to create client profiles you have to have the permission level of an Admin as the Clients tab is under the Admin panel.
Step 1: Access the Admin panel and select Clients.

Step 2: Click Add Client

Step 3: Establish the clients name, and click Add Client.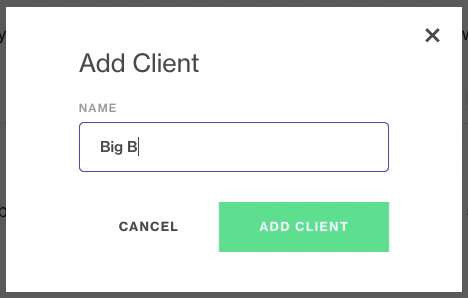 Once you have established the clients name, this new client will be added to the client list. From here you need to edit the client profile further in order to have all of the information necessary.
Editing Client Profiles
Step 1: Hover your cursor over the created client to either edit or delete.

Step 2: Click Edit
Step 3: Add details, contacts and notes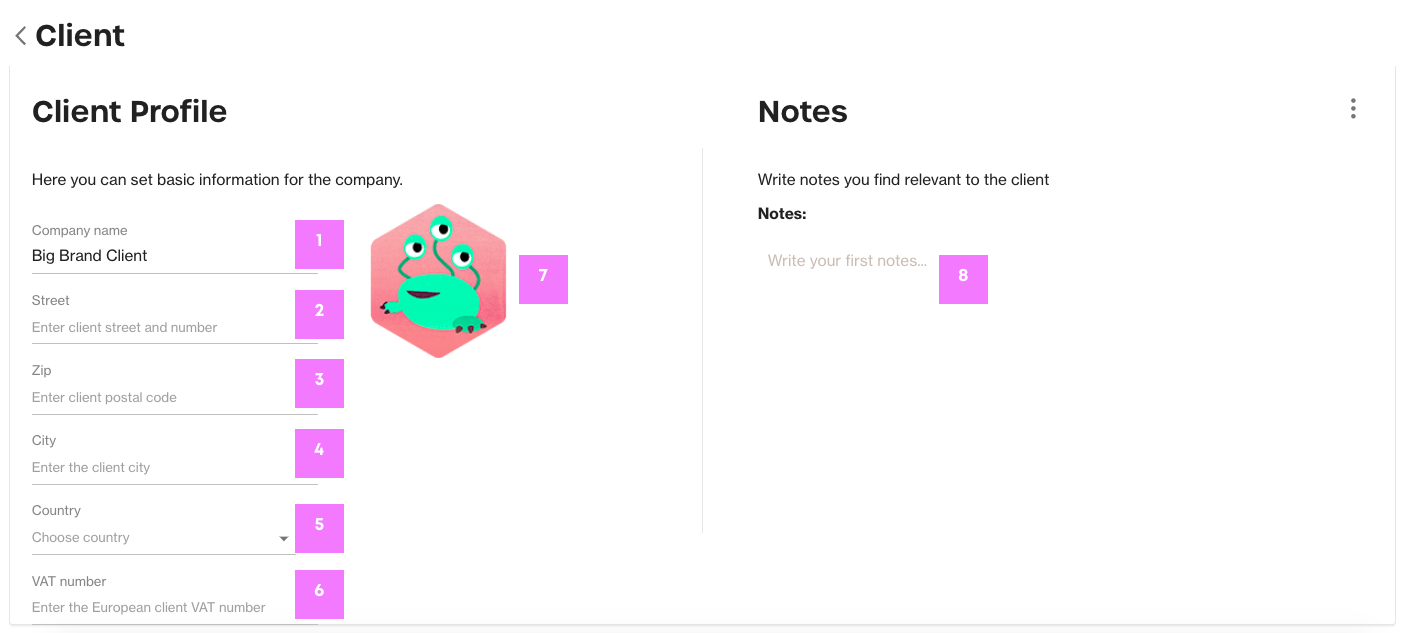 1. Add/edit client name
2. Add/edit client address
3. Add/edit client zip code
4. Add/edit client city
5. Add/edit client country
6. Add/edit client VAT number
7. Add/edit client notes
Repeat for all of your clients
Establish Client Guest
When editing a clients profile, below their detail information section, you have the option of inviting a client as a guest user into Forecast. These guest users can only access the projects that they are assigned to and in those only the tasks that they were assigned to (as Assignees, Owners or Followers).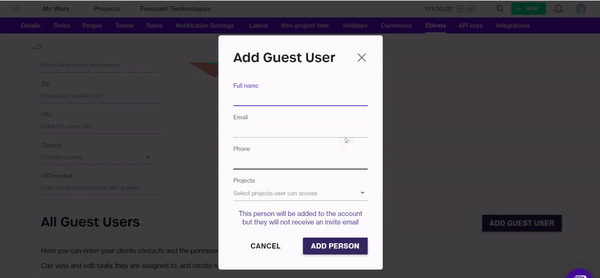 Step 1: Click Add Client User

A pop up modal will be prompted.
Step 2: Fill out the necessary information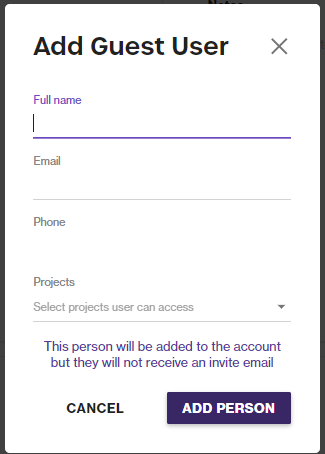 1. Establish the name of the contact person (client)
2. Establish the email of the contact person (client)
3. Establish the phone number of the contact person (client) & then click Add Person.
4. Select the project the guest user should be able to access (note: you have to assign the client to the project in the project settings beforehand)
Edit/add guest user permissions
Once you have set up your clients and have invited your guest users you will have the ability to determine just how much access you wish your guest users to have in the projects that you assign them to. You are able to choose from a few options, to view them, from the client tab in the Admin panel select Client Permissions. Once you click on it the following will appear: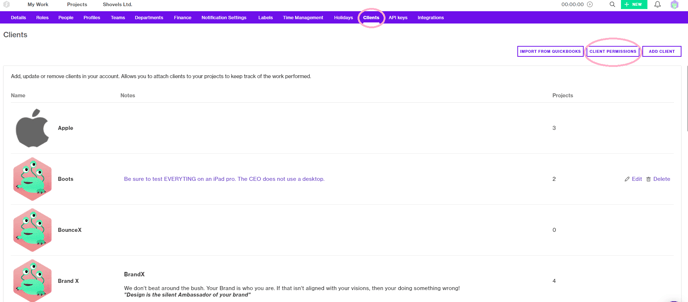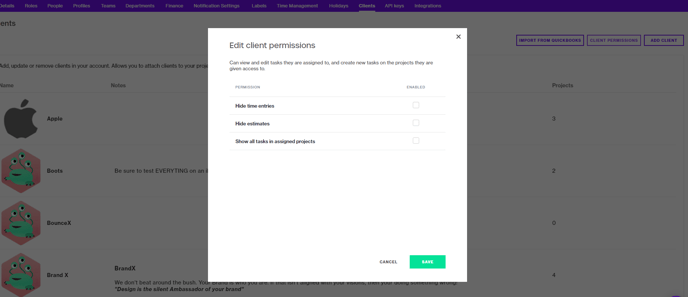 Choose which of the options you wish to have enabled for your guest users and then save.
Adding guest users to tasks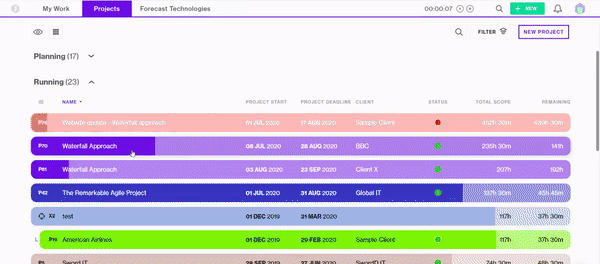 Step 1: Select the project which the client is assigned to on the projects page
Step 2: Select a task the guest user should be able to see
Step 3: Add the guest user to the task as Asignee, Owner or Follower of the task
Now the client user has access to this specific task and can follow it, edit it and receive notifications when a change has been made.