Learn how Forecast and Jira work with one another and their functions.
Main Takeaways
Forecast's integration with Jira strives to give you a world class project & resource management application. The goal is to significantly improve your ability to create a highly utilized organization, while at the same time ensure that all those ad-hoc issues can be dealt with without unforeseen consequences.
Note: For information on how to set up Jira with Forecast visit our articles on Jira Cloud and Jira Server set up.
Forecast
Takes care of the time, people, and budget elements of all your Jira projects.
Lets you use all of Forecast's planning abilities to alter assignees and due date on issues.
Use Forecast to plan sprints, delegate tasks/issues and leverage that your peoples' allocation to projects will be your capacity in your sprints.
Use the timeline on projects to plan a Jira project using a Gantt approach.
Use the Forecast resource plan to find resources with the right skill and availability for your issues.
Lets you make shareable reports, e.g. share your live Gantt chart with your clients.
Will transform all your time registrations into a budget with projections, and let you connect this to your accounting system of choice. Thereby reducing manual work and risk of error.
Use Forecast's intuitive timesheets to register time on your issues and they will automatically be created as worklogs in Jira.
Jira
You will still need to create your projects in Jira, and can choose which Jira projects to synchronize with Forecast.
After a project has been synchronized to Forecast, all data changes in Jira will be automatically sent to Forecast.
Sprints in Jira belong to a board, whereas sprints in Forecast belong to a project. Therefore we can only synchronize sprints to and from one board per project.
If you use Tempo Timesheets in Jira for timetracking and want to synchronize these to Forecast, please write to support@forecast.it after the integration has been set up and share your tempo token (this is needed to syncronize the time across both systems).
How does data flow between Jira and Forecast?​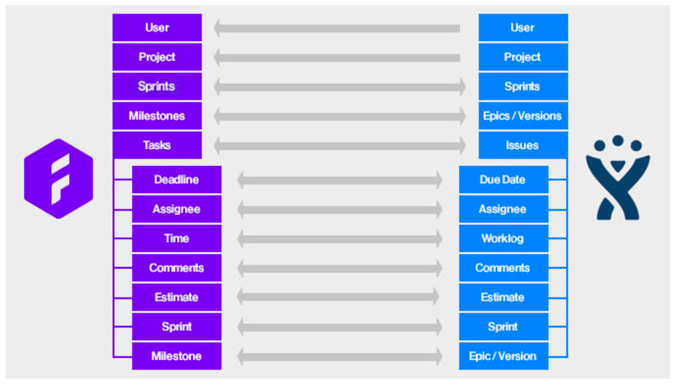 ​
What will Jira projects look like in Forecast?
Like ordinary Forecast projects although you may find that some functionalities have been disabled. The workflow for example will contain Jira status column that can not be altered, and Jira linked tasks can not be deleted in Forecast. However all tasks in Forecast will have a direct link to the issue in Jira, making it easy to navigate to the issues and collaborate between Jira and Forecast.
Important:
If Task Hierarchy is enabled in Forecast, there are certain limitations to be aware of when moving Jira-linked tasks in the hierarchy in Forecast:
Moving a Jira sub-task will not be reflected in Jira.

Moving a common issue (User Story, Task, etc.) under another common issue will not have any effect in Jira and will not change the issue type of a task.

Moving an epic under another epic has no effect.

Moving a subtask issue under another sub-task issue has no effect.
Creating issues with Task Hierarchy:
You cannot create Jira subtasks via Forecast with the new task hierarchy, so any new subtasks will have to be created in Jira. Similarly, if you move a Forecast task to Jira, any nested tasks under that Forecast task will not be moved with it.
​