Integrate with Jira Cloud to sync your projects between Jira and Forecast
If you're looking for Jira Server, click here.
Time to read: 10 minutes
Main takeaways
The integration with Jira Cloud synchronizes your projects between Jira and Forecast: it allows for a combined workflow between both Jira and Forecast users
Projects and tasks will stay up-to-date as data is added and/or updated in both Jira or Forecast
When using Forecast with Jira, your people scheduling, project planning, estimates, time tracking, and high-level portfolio overview will always be synchronized with your current development tasks and issues
When you Sync at least one project, your team from Jira will be imported as virtual users in Forecast
Issues, versions, boards, and sprints will be synchronized between Jira and Forecast, and new added and/or updated data will stay up-to-date
NOTE: This integration is only available for Jira Cloud and Jira Server. If you're using Jira Data Center, please contact us.
Setup
Step 1: Go to the Jira Cloud integration in your admin panel/integrations, or click here.


Step 2: Copy the Jira verification key

Step 3: Click on the link below the verification key that takes you to the Atlassian Marketplace (see step 2 in your Forecast page)
Step 4: In the page from the link, click Get it now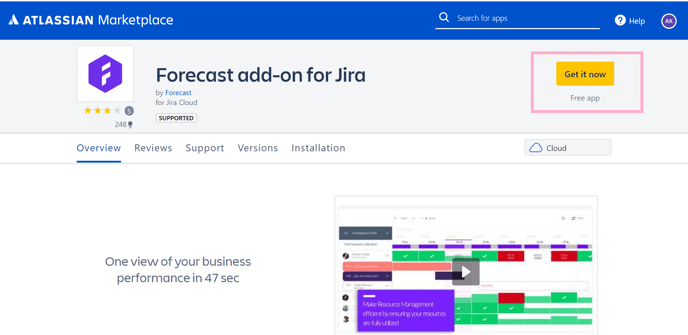 Note: A new window will be prompted
Step 5: Select a site to instal the app, and choose to Install app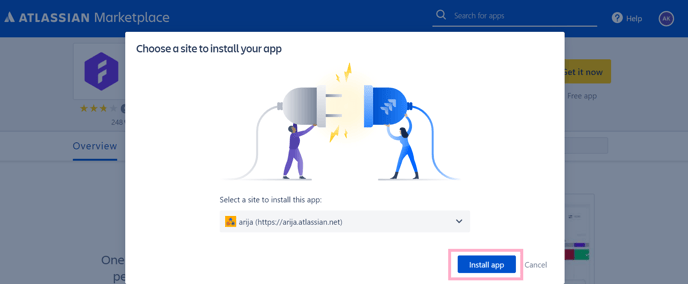 Step 6: Wait a moment, and Click Get it now in the following window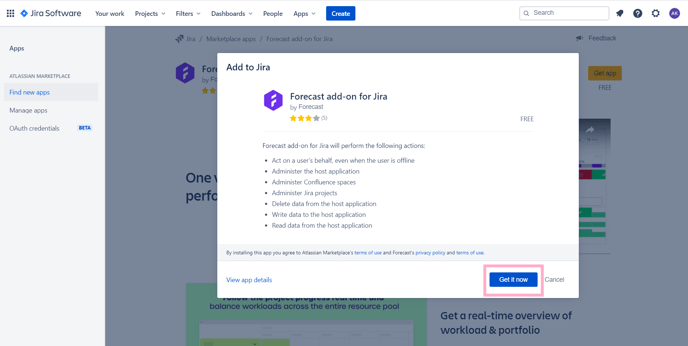 Step 7: Then, in the new pop up window, click Get Started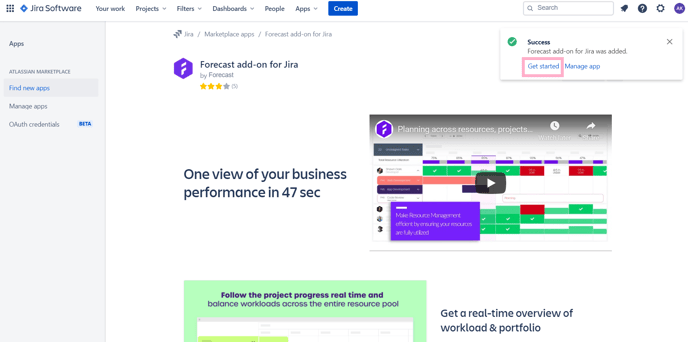 Step 8: Paste the verification key from Forecast (from Step 2 in this article), and click Verify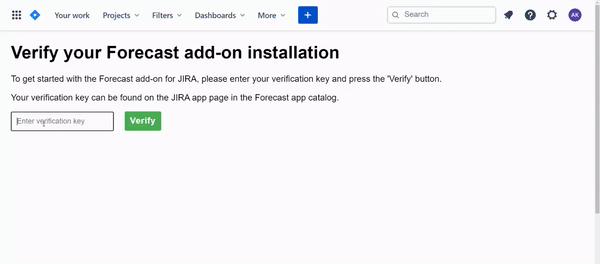 The integration is now set up
Syncing Jira Projects
Step 1: Click on Sync Jira Project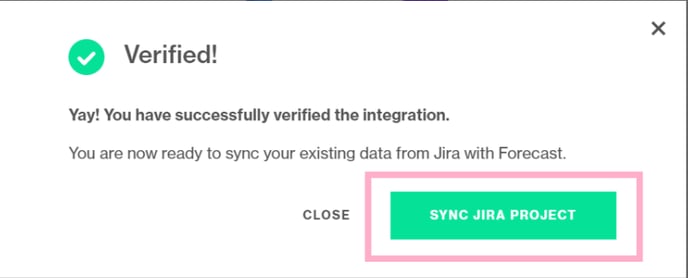 Note: a new window will be prompted
Step 2: Sync your first Jira project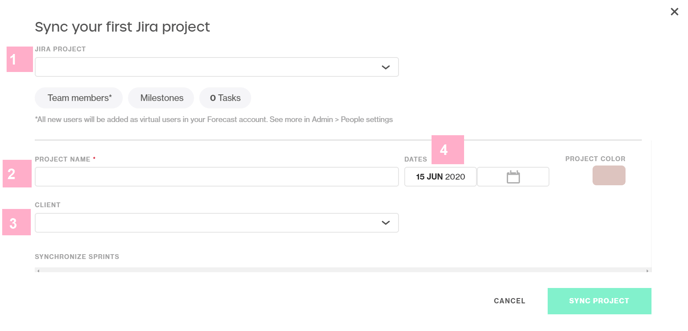 Choose the Jira project you want to sync with
Create the name for the project in Forecast
Select a client for this project
Set the dates
Scroll down on the 'Sync your first Jira project' pop up in Forecast
Step 3: Synchronize Sprints

5. Choose whether you want to Synchronise your Sprints not. If you choose to synchronize sprints, you will be asked to choose a Jira Board. Only sprints from this board will be synchronized to Forecast, and any sprints created in Forecast will be synchronized to this board.
Step 4: Choose your Estimate Type
6. Choose the Jira field that you use for estimates in the current Jira project. You can choose between Time Original Estimate, or choose to use Story Points or your own custom field.
Jira NextGen projects a locked to use Story Points as this is the only field available on these types of projects.
Step 5: Select how to sync Forecast phases in Jira



7. Sync Forecast phases as Epics or Versions/Releases in Jira
Step 6: Choose how you want to create Jira Subtasks in Forecast

8. Select whether you want to create Jira Subtasks as Tasks or Subtasks in Forecast
Note: If using the Task Hierarchy feature in Forecast and you want to see the full task hierarchy when syncing Jira projects you need to:
Sync Phases as Versions/Releases: Epics will be synced as normal tasks and will be part of the task hierarchy
Create Jira Sub Tasks as Tasks: This will create Jira Subtasks as regular tasks in Forecast and will be part of the task hierarchy.
If you are syncing one or more Jira Epics to a Forecast project then those Epics will always be synced as Phases, but you can still choose to sync Subtasks as Tasks to see the common issue to sub-task hierarchy.
Step 7 (optional): Click More Settings to unfold additional options

9. Add project labels. You can read more about them here
10. Select your budget type. Discover more here or hover over the information icon just above the budget type
11. Choose your rate card. To learn more about rate cards, see this article
12. When done, choose to Sync Project
You are good to go!
For an alternative presentation of the above, see:
See also the related article on Synchronizing an Existing Forecast Project with Jira and Changing Jira Prefix Settings
If you have any additional questions concerning the Jira integration, check out our Jira and Forecast: FAQ, or contact us for more information.